Artist Talk & Encaustic Demo Oct. 20 in Lake Oswego
Posted on

·

Categories

Exhibits, Paintings
So many viewers at the Water and Form exhibit have been curious about the process I use for my encaustic paintings. Join me in the gallery this Friday, October 20 from 12-1pm to see the process in action!
4x timelapse video of creating
Underfoot III
– Cascadia Winter series
My process is somewhat different from many encaustic artists. I use a hot, flat iron as both a brush and palette. I melt cakes of colored wax directly onto the iron, then move the wax-loaded iron over my blank paper. Different strokes of the iron create different patterns and textures in the molten wax, which hardens almost immediately. Colors are mixed either directly on the hot iron before being applied to the paper, or by repeatedly passing the iron over existing colors on the paper to blend them together.
Flat collage elements and ink drawing can be layered above or below the wax. Thicker objects are fully embedded between layers of wax to make sure they stay put.
4x timelapse video of creating
Storm Light
– Cascadia Winter series
Encaustic painting is a spontaneous and intuitive process. I usually begin with a general concept for each painting, but I never know how it will turn out. Witnessing the unique effects of each stroke of the iron keeps the process fun and exciting for me. Working with encaustic provides a contrast to my realistic watercolor practice, where I generally work with a muted color palette and carefully planned compositions. Encaustic pushes me outside my comfort zone to focus on expressing the landscape through gesture, color, and texture. Random results and accidental patterns are an integral part of the work.
Wind Seeds I
, Cascadia Winter series, © 2016.
I first learned this method of encaustic painting in 2011, when I began producing several series of small works based on natural patterns and color studies. It was my first exploration of abstract painting. In 2016, the Cascadia Winter series used a larger format to express full landscapes and explore a specific sense of place. In 2017 I created the River to Sea series as part of my solo exhibit, Water & Form. River to Sea is the first in a planned series of "progression" pieces, exploring transition environments and natural cycles of change. Beginning with the freshwater marshes that inspired Cascadia Winter, River to Sea follows the water through brackish estuaries, out to the open ocean, and back again over tidal shallows up to a sandy coastline.
The finished paintings have a compelling physical beauty that is difficult to capture in photographs. Encaustic wax is mostly beeswax and pure pigment, so the paintings give off a very subtle, happy aroma of warm honey. Areas of translucency add a three-dimensional sense of depth to the paintings. The finished surface is polished with a soft cloth until glossy, which changes the richness of different colors from different angles. Metallic pigments can sparkle brightly or be totally invisible when viewed from one side or another. Although the surface is glossy, it somehow still appears soft, velvety, and inviting to the touch.
Deep I
, River to Sea series, © 2017.
My encaustic paintings provide a bridge between my realistic watercolors and abstract sculptures. Material properties are central to both my encaustic and sculptural work – I just love the way it feels to handle raw porcelain, luminous wax, rough fibers and smooth glass. The Water & Form exhibit is my first opportunity to exhibit the encaustics and sculpture together. Water & Form uses my love of materials and tactile texture to celebrate the delight of discovery at tide pools and beaches, and the endless mystery of the deep sea.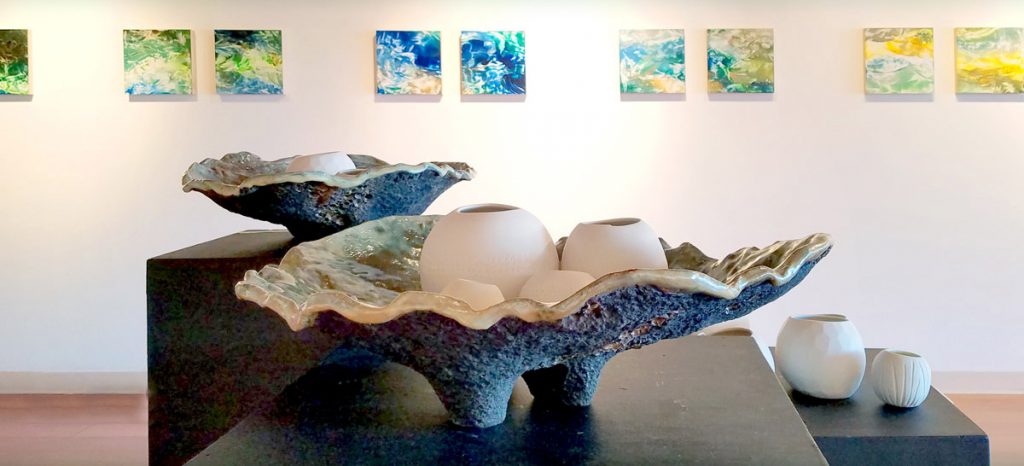 Water & Form
on exhibit thru November 17, 2017 at
510 Museum & ARTspace
, Lake Oswego.
Foreground:
Wanderers
and
Ostrea
ceramic sculpture.
Background:
River to Sea
encaustic series.