About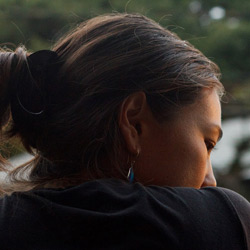 I have spent my life on the coast, and all my artwork has its roots in my love of the sea. My work explores natural beauty and cycles of change centered around coastal environments, where our human connection to nature becomes clear. I see the coast as a transition zone between our known human world and the deep unknown "otherness" of the open sea. By approaching this otherness in the context of playful curiosity, collaboration, and connection, my work creates an environment for positive transformation that enriches our relationships with ourselves, each other, and our world.
I am based near Portland, Oregon. My work draws direct inspiration from the Pacific Northwest coast as well as my background in California, Kauai, and Down East Maine.
I often incorporate natural and reclaimed materials into a wide range of work including watercolor and encaustic painting, mixed media sculpture, functional porcelain ware, and interactive installation art. My traveling installations include
Ghost Net Landscape
, a collaborative community installation transforming reclaimed fishing gear into art, and
1000 Moons
, an art installation and grief process in handmade paper. Since 2005, I have practiced a regular schedule of plein air (outdoor) landscape painting in addition to my studio work. Spending this intense, creative time on location creates a strong bond with the landscape and a wonderful memory of the day.
I have been a practicing artist for over twenty-five years, and a full-time professional artist since 2016. My award-winning work is included in public and private collections around the United States.

Above, L-R:
Tillamook Forest installation art
;
Oregon Coast plein air painting
;
Santa Monica beach path mural
---
Artwork Commissions
Commissions are closed for 2023. A schedule for future commissions is not currently available.
Commission a custom watercolor landscape, or a painting of your home! I can work from your photos, or one of my existing paintings. I will be in contact with you every step of the way, sending images of the initial pencil sketch and final painting for approval.
I can begin work with a 50% deposit. The entire process can take as little as two weeks for a small, simple painting, or several months for a larger painting with adjustments made along the way based on your feedback.
50% deposit required to reserve your space. The deposit is non-refundable once I begin painting based on your approval of the initial sketch.
Materials
Your painting will be completed using the highest quality professional-grade materials, including Arches watercolor paper and Winsor & Newton lightfast watercolor paints. These archival materials ensure that your painting, properly cared for, will last a lifetime.
Artwork Sizes & Pricing
| Artwork Size | Price | Framed Size |
| --- | --- | --- |
| 5" x 7" watercolor | $250 | 8x10" framed |
| 8" x 10" watercolor | $375 | 11x14" framed |
| 11" x 14" watercolor | $600 | 16x20" framed |
| 16" x 20" watercolor | $1200 | 24x30" framed |
| 22" x 30" watercolor | $2000 | 30x40" framed |
Larger sizes are available as gallery-wrapped acrylic on canvas, no frame required:

| Artwork Size | Price |
| --- | --- |
| 30" x 40" acrylic | $3000 |
| 36" x 48" acrylic | $4000 |
| 48" x 60" acrylic | $6000 |
Framing options are available, or I can ship the painting to you unframed.
Framing and shipping costs are not included in the prices listed above.
---
Giving Back
A portion of proceeds from my work is always donated to conservation, arts and culture. Here are some organizations I've supported in recent years: