Tree Emergency Response Team:
New Tree Portraits
Opening reception March 7, 5-8pm
Elisabeth Jones Art Center, Portland Oregon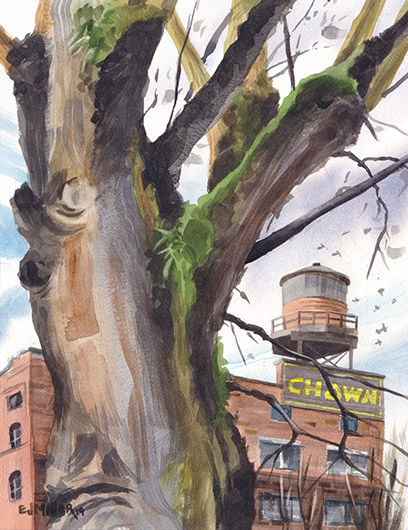 I fell in love with Portland's trees when I moved here from Kauai in 2014. Busy downtown streets are alive with the lushness of old growth maples and oaks, their thick trunks covered with decades of moss and ferns. The trees stand on narrow street corners, overflowing onto sidewalks, taking up prime real estate in a city plan that has recognized the value of urban green space for over 100 years. But many are on private property, and at risk of being cut down when their lots are sold for development.
In October 2018, I joined a group of Portland plein air painters to paint these local trees at risk from development. The project is organized by Elisabeth Jones Art Center, a downtown gallery focused on ecology and social justice issues. Their "Tree Emergency Response Team" gathers every two months to paint a variety of beautiful, historic trees that still have a chance to be saved. In their own words:
"The time to start talking about a tree is when the developer is first thinking about the property, before the architect has drawn up the plans.

"Often when we notice that a tree is at risk, it's when someone is standing before it with a chainsaw. Generally this means that it's too late to save the tree.

"Our job is to help trees to be loved and noticed by the community. If the developer knows that the community cares about its trees, they may choose to build without killing the tree."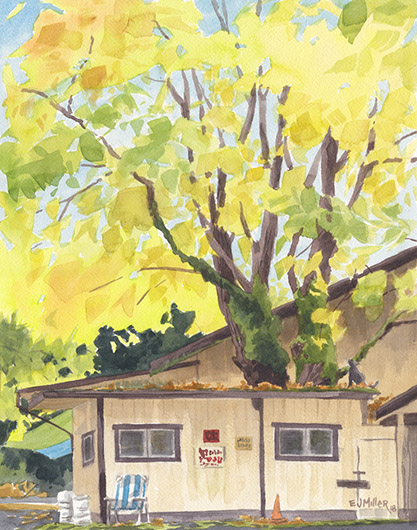 The city's trees drop their intriguing summer seedpods into the street and blanket the autumn landscape with brilliant fallen leaves. They grow in graceful curves, expanding to fit any available space. It is a slow, silent, and necessary counterbalance to the hard lines, hustle and grime of our built environments. Every one of them carries the long history of their changing landscape, from an Oregon Trail pioneer cemetery to a well-known auto parts dealer who custom-built his home around trees rather than cut them down.
An ongoing, rotating exhibit of these tree portraits is on display at Elisabeth Jones Art Center. Join me there to see the newest collection, opening March 7 at First Thursday Art Walk! I've loved discovering and painting each one of these trees.