Mossy Maples at Scappoose Pioneer Homestead
#744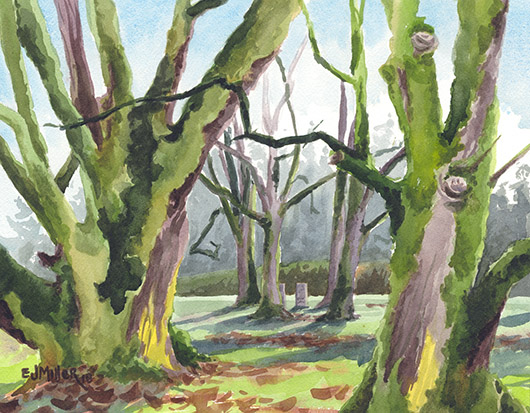 A pair of grand old maple trees covered with a thick coat of moss in Scappoose, Oregon. The trees have shed their leaves for the winter, but the moss creates a colorful palette of vibrant greens from recent rains. Beyond the maples, three graves stand in a row, sheltered by a circle of four old mossy oak trees. Were the trees planted in honor of the graves, or was the grave site selected as a peaceful spot between four young trees?

This homestead dates back to the earliest days of Scappoose pioneer settlement, with the grave sites marked from 1847 to 1852. Buildings were still standing on this site until the 1960s, but now only the mature trees and grave sites remain.

This historic site is now at risk for development as the nearby regional airport expands, commercial warehouses and public utilities move in, and the Scappoose area continues to grow as a residential suburb of Portland.
Plein air watercolor, 2018
11" x 14"
Original Painting Available (Framed)
Purchase Mossy Maples at Scappoose Pioneer Homestead, Countryside Art Prints:
5x7 matted to 8x10" Art print
8x10 matted to 11x14" Art print
11x14" Paper giclee
16x20" Paper giclee
Set of 8 Greeting Cards + Envelopes
Single Greeting Card + Envelope
$4
May 2023 order fulfillment is 1-2 weeks from date of purchase.
Tags:
tree emergency response team
You might also like...