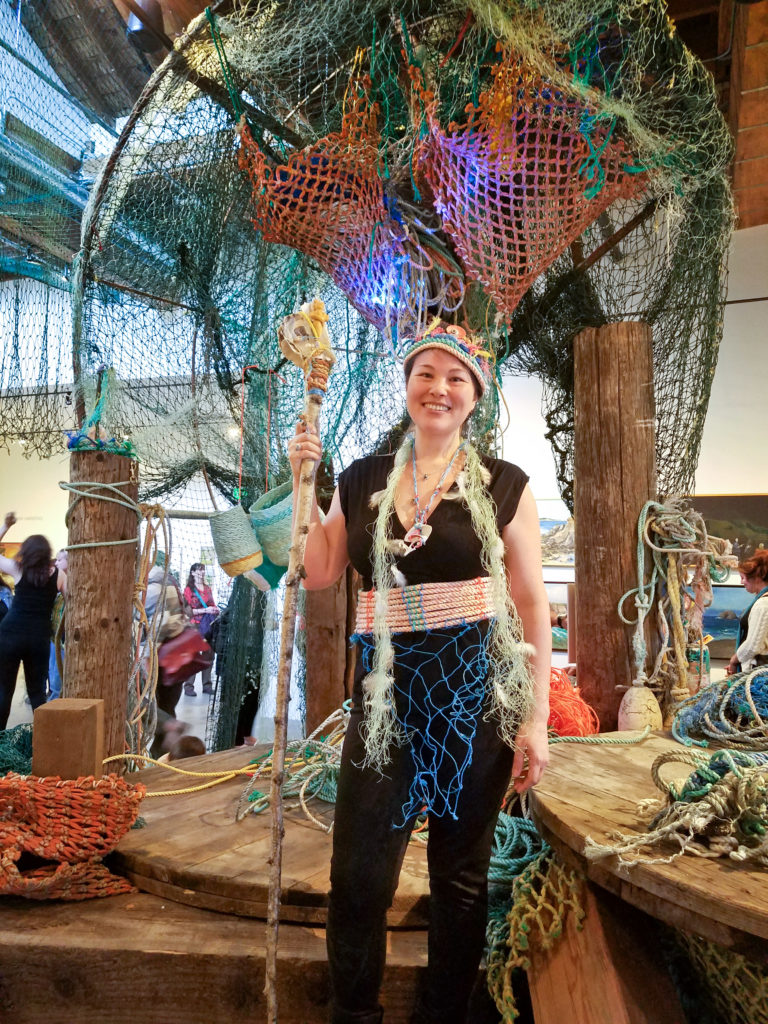 It has been an incredible month in the Ghost Net Landscape! Every day the project has grown in amazing ways, thanks to the collaboration and enthusiasm of artists, ocean lovers, and organizations. The installation is now halfway through, and it seemed like a good time to review the first month and look forward to June!
From May 2-26, I spent three days a week occupying the installation at Elisabeth Jones Art Center, unraveling rope, stitching baskets, and connecting with other makers. By the end of May, I had 17 baskets completed.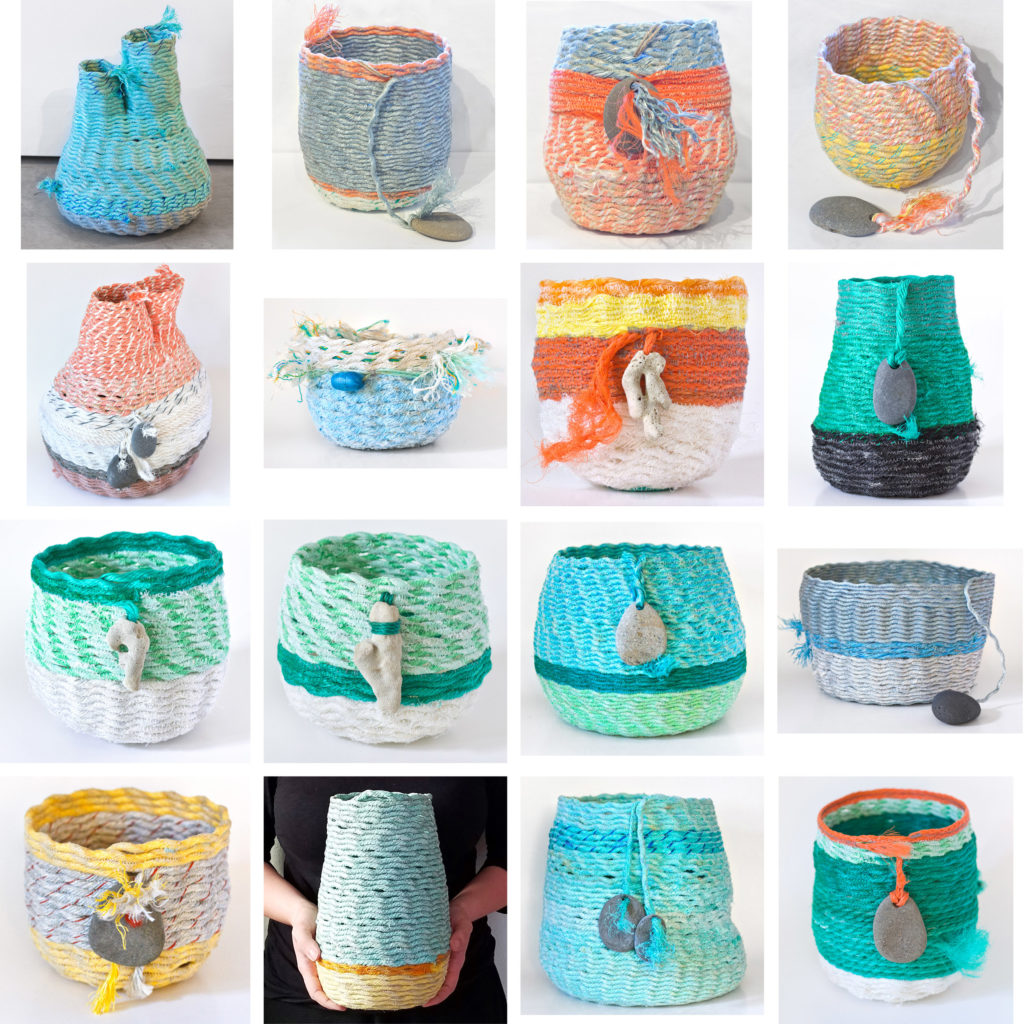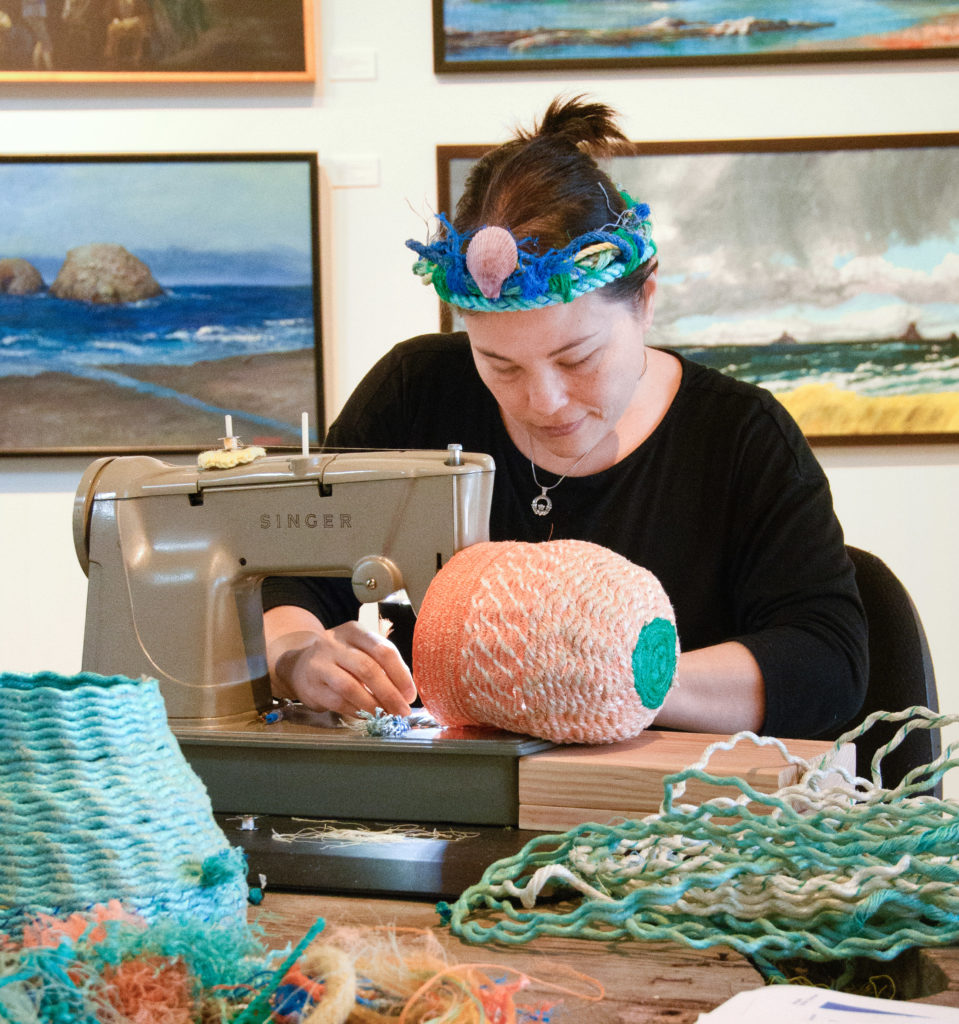 More importantly, the exhibit provided a platform for exploring creative solutions to transform this material into something new. Rather than a finished product, this project continues to be a collaborative and evolving process. It has been truly incredible to work with so many talented artists in support of a common goal, each one contributing their unique talents ranging from set design and music to performance, costume design, and the creation of art objects.


---
Collaboration
More details about each contributing artist are available on the project website at www.ghostnetart.com.


With very minimal direction, the two-person team of SF-Dura constructed the incredible workspace and stage, and also composed the soundscape for our opening night performance. The performance was conceived by John Teply, gallery director of Elisabeth Jones Art Center, and scripted by Elise Dixon. I was joined for the live performance by fellow actors Elise Dixon, Katherine Beem, and Santigie Fofana-Dura. During this 7-minute symbolic entangling and rebirth, we spoke disjointed quotes from Rachel Carson's "Silent Spring" while interacting with the landscape created by the piles of net and wooden platforms.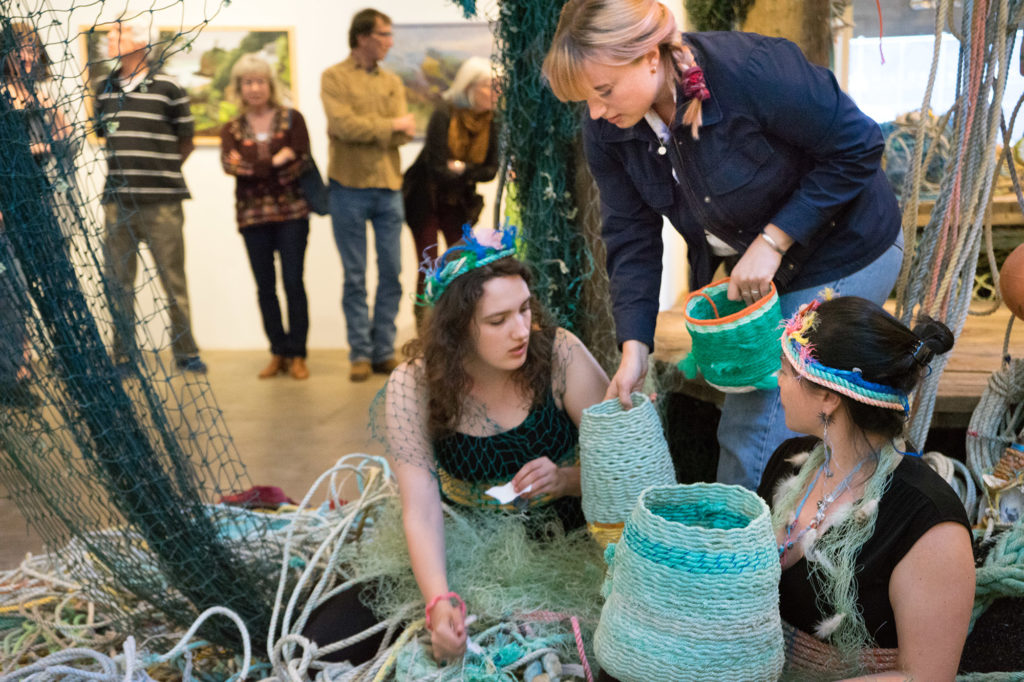 Our costumes were created from ghost net by Lucretia Hatfield, whose beautiful work we continued to wear during our days working in the space.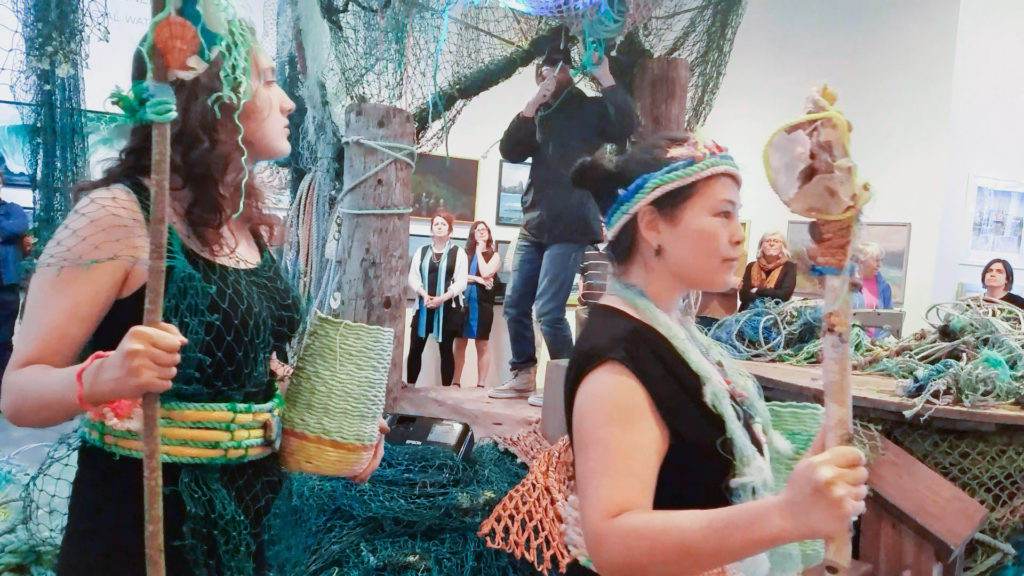 During the month of May, over a dozen artists and self-professed non-artists used this reclaimed material to create their own projects in the space. Many of the objects will remain in the gallery through the end of the exhibit on June 23.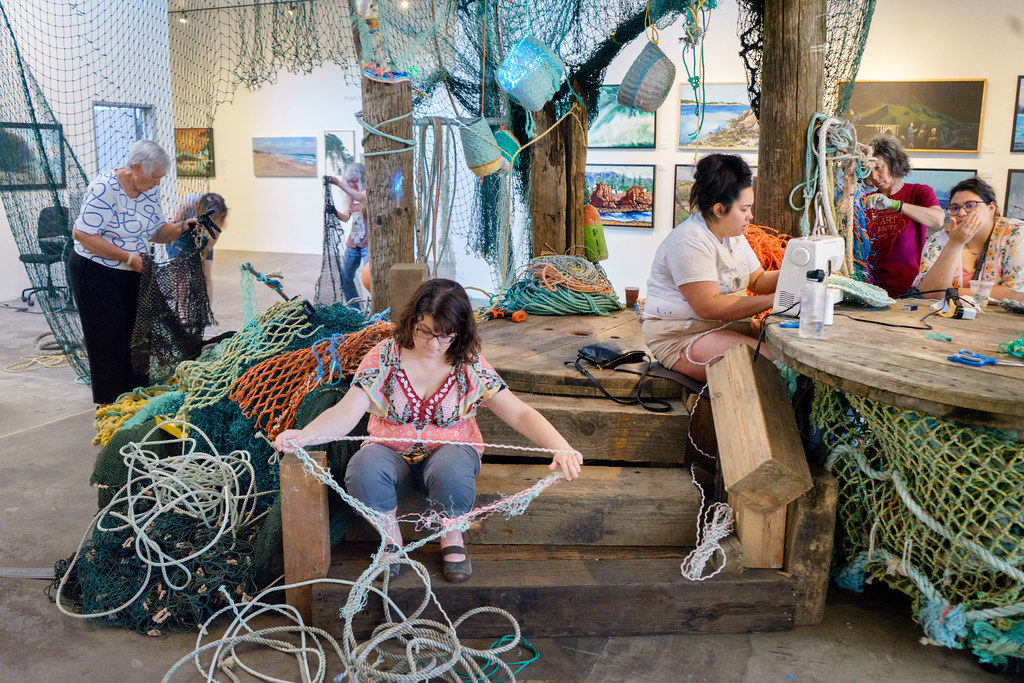 ---
Where did I get all this net?
I have been so fortunate to work with passionate and dedicated people in Hawaii, Oregon, and Washington to provide my materials for this project.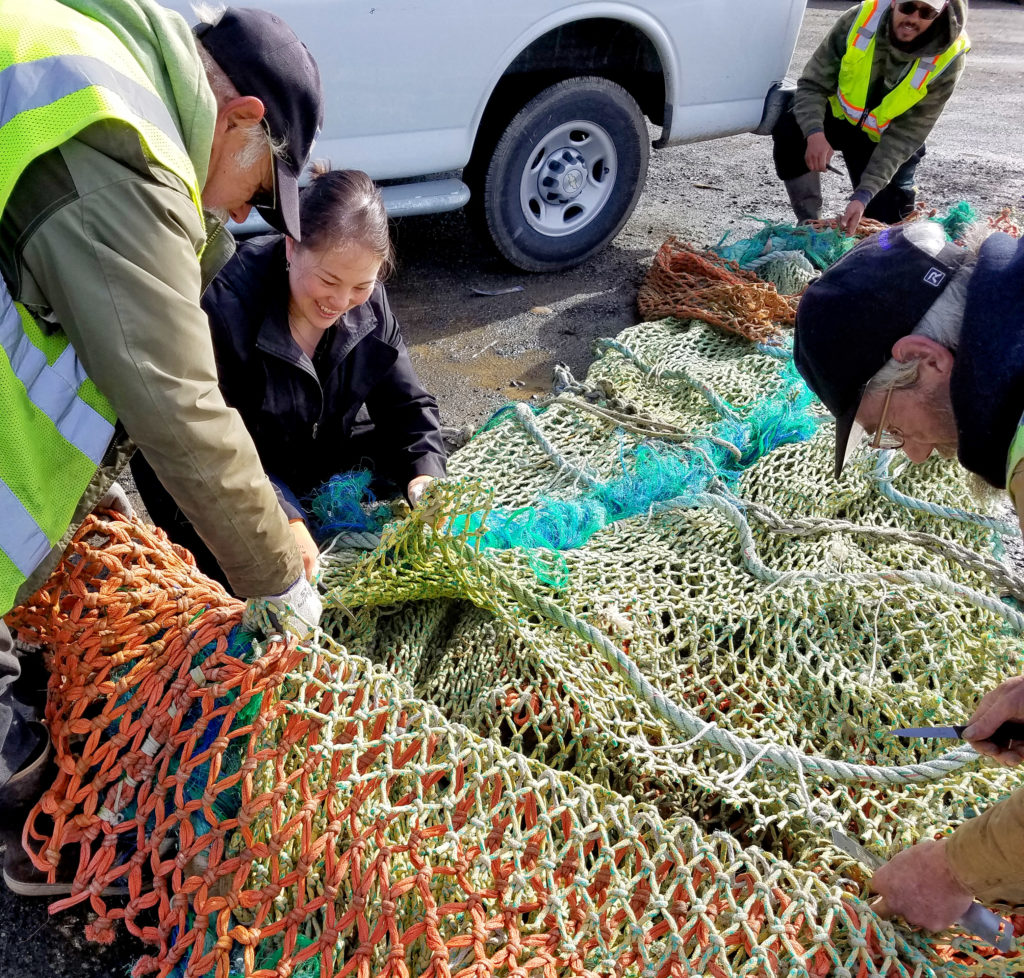 In Washington, I visited the Port of Grays Harbor and Ocean Gold Seafoods to collect materials from a major commercial fishery supporting responsible recycling solutions.
On the Oregon coast, I worked with Oregon State Parks rangers, SOLVE, Banks Construct, and several dedicated individuals.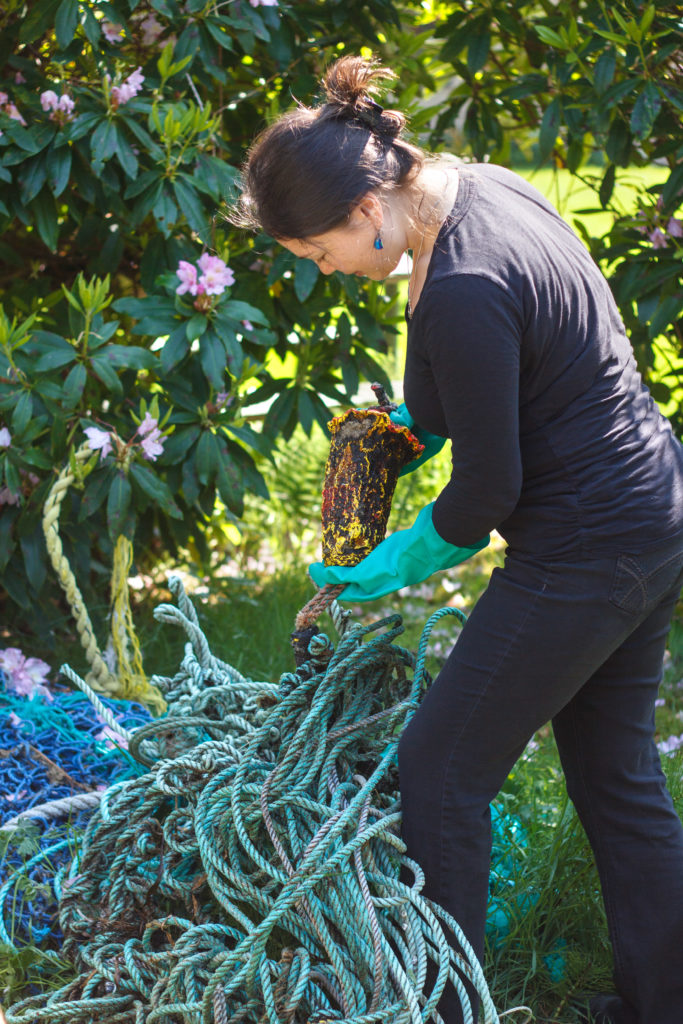 And in Hawaii – where this project truly began – the incredible volunteers at Surfrider Kauai packed and shipped boxes of ghost net to my Oregon exhibit. Hawaii's location at the edge of the North Pacific Gyre is a natural collection point for marine debris from thousands of miles across the ocean. Each month, Surfrider Kauai collects over 10,000 pounds of ghost net from Kauai's beaches.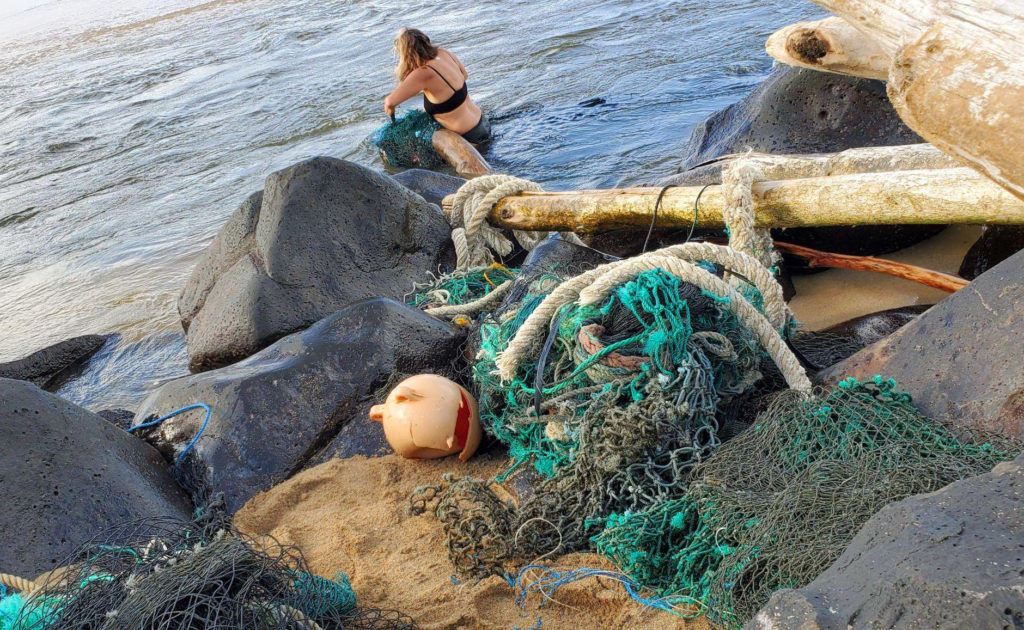 ---
What's next for the Ghost Net Landscape?
This month I'll begin work on 34 large baskets for Oceana's 12th annual gala fundraiser in Laguna Beach, California. The SeaChange Summer Party theme this year is ocean plastic pollution. Oceana has partnered with several ecological artists for the event, which is so wonderful to see, and I'm thrilled to be one of them!

I am also honored to have received funding from the Regional Arts & Culture Council for my October exhibit of the Ghost Net Landscape in Forest Grove, Oregon. I'm already in talks with local teachers to bring student groups to the exhibit – it's exciting to see how this project continues to grow in new directions with the help of the greater community!