Join me for the unveiling of my 100 Turtles project!
Saturday July 7th, 5-7pm
Fairweather Gallery, Seaside, Oregon
I've spent the past 5 weeks sculpting 100 tiny ceramic sea turtles: curling and shaping two hundred front flippers and carving details into two hundred eyes. Shaping eighty two porcelain eggs from ten unique two-part molds for the hatchlings, and attaching twenty eight rear flippers and tails for the swimmers. Yes, this adds up to 110 – I made a few extras as insurance against casualties!

All 100 turtles together. This is the average size of a single nest, although only 1 in 100 survives to adulthood.
Concept
The 100 Turtles concept was born during my Night Sea exhibit at the beginning of this year, after reading about a major nesting site on the Great Barrier Reef where 99% of sea turtles are born female due to rising temperatures. The sex of a sea turtle is determined by the temperature of the sand at its nest site. Hotter temps mean more females, and nesting sites around the world are now reporting higher percentages of females than the historically sustainable ratio of 3 to 1 (source).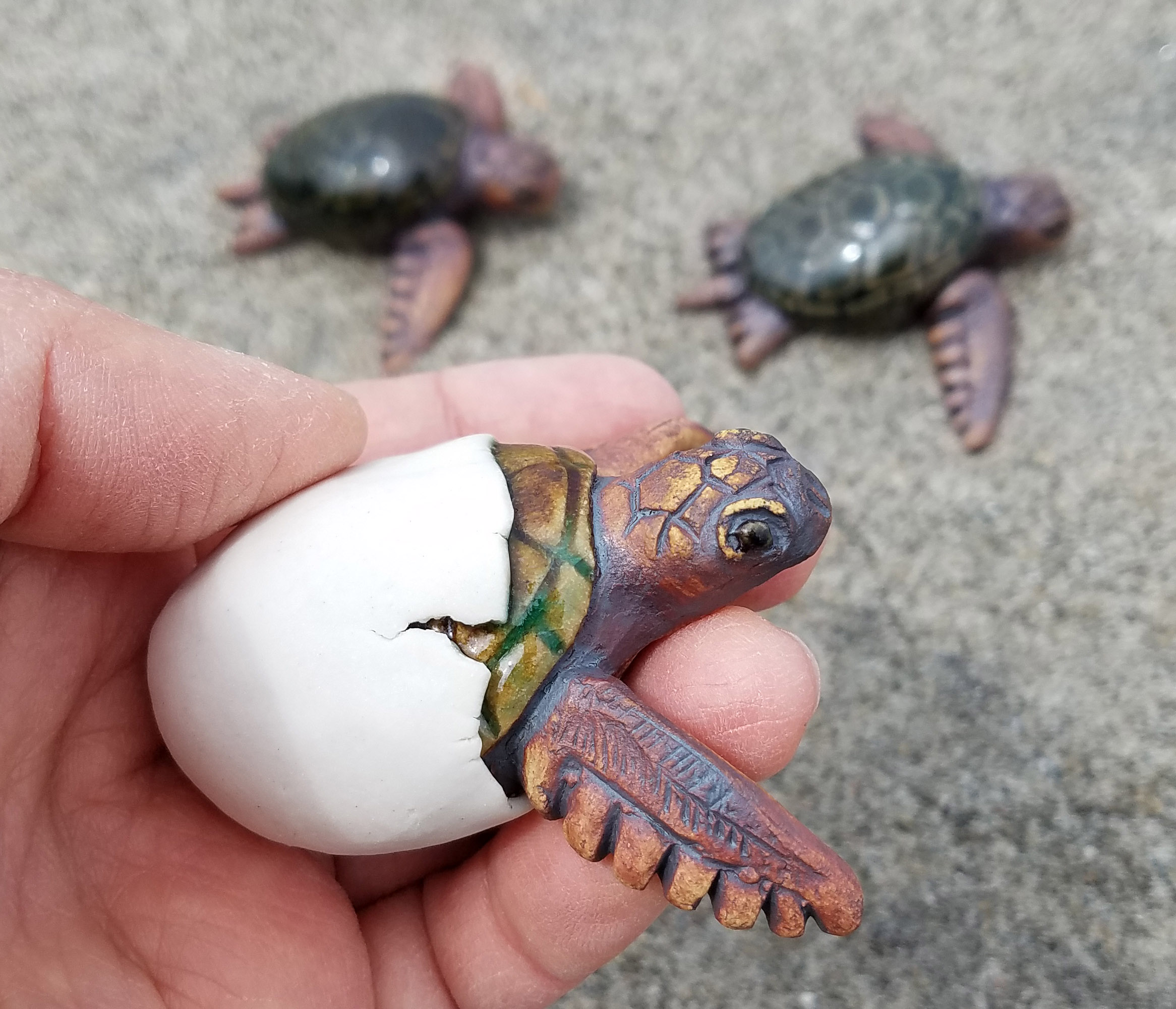 The sculptures are about life size – small enough to fit in the palm of your hand.
Spotting a sea turtle always felt like a blessing when I lived in Hawaii – I found them deliberate, intelligent, graceful and calm. Their presence helps to maintain the health of coral reefs and shallow seas. Turtle nesting sites act as nutrient fixers in coastal sand dunes, helping to prevent erosion.
Sea turtles are affected by so many of the things we do: over-hunting, light pollution, plastic pollution, and entanglement in fishing nets. Much of my work over the past year has centered on recycled materials or conservation concepts that address these issues, and the story of the 99% female sea turtles seemed to bring it all together. Working on this project made me realize how deeply everything is connected.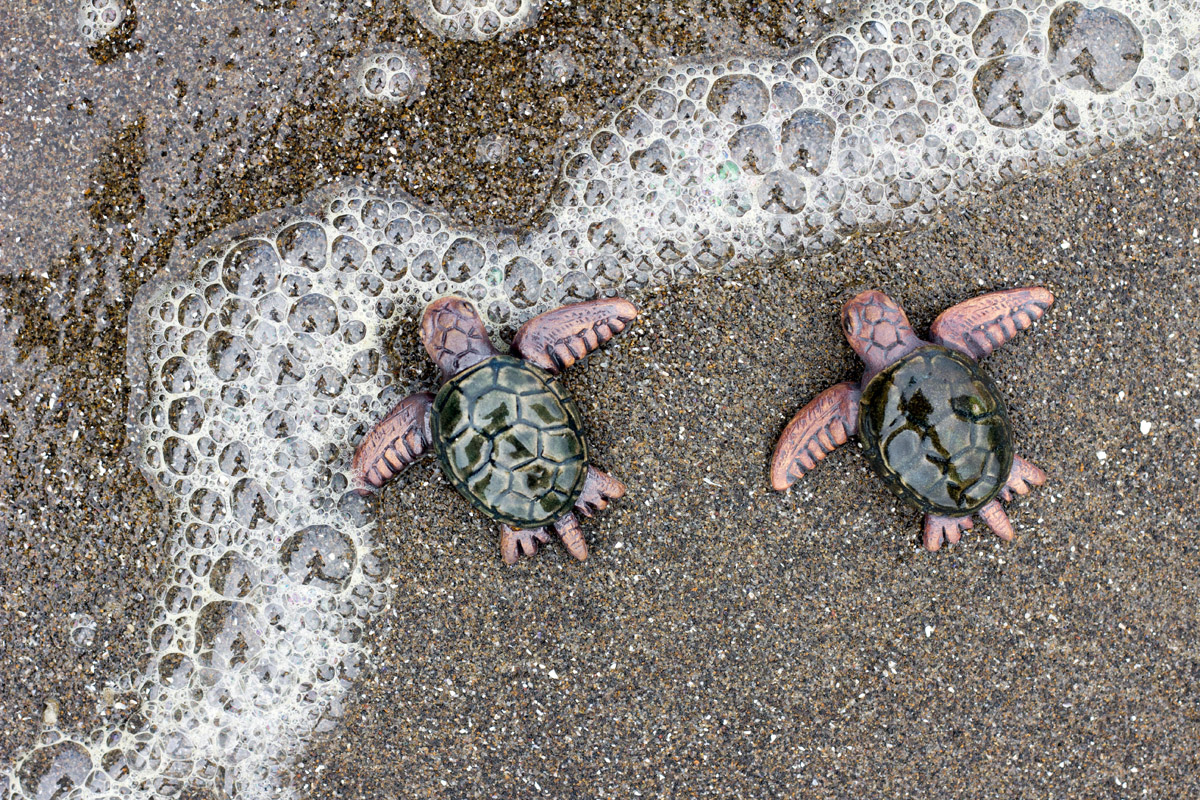 Conservation
The ocean is what I love most in the world. As I started weaving Rope Baskets with reclaimed fishing rope, and sculpting these 100 turtles, I struggled with the associated research that felt overwhelmingly negative. I found a positive voice in SeaLegacy, a conservation group creating a movement towards healthy oceans through visual storytelling. SeaLegacy's expeditions bring the spotlight to critical regions and share success stories of people working in harmony with the sea. Their stance on storytelling rings especially true to me, as an artist whose work remains centered around beauty and joy despite the depressing statistics.
Contribute
I am donating 25% of profits from every turtle sold to SeaLegacy, through July 31.
The turtles are available in my web shop
and at the following stockists:
Fairweather Gallery – Seaside, Oregon
Amy-Lauren's Gallery – Hanapepe, Kauai
a.ell Atelier – Portland, Oregon & Kapaa, Kauai
Process
I used two kinds of stoneware clay for most of the turtle bodies, one darker and one lighter. Just a few of the swimming turtles are sculpted completely from pure white porcelain.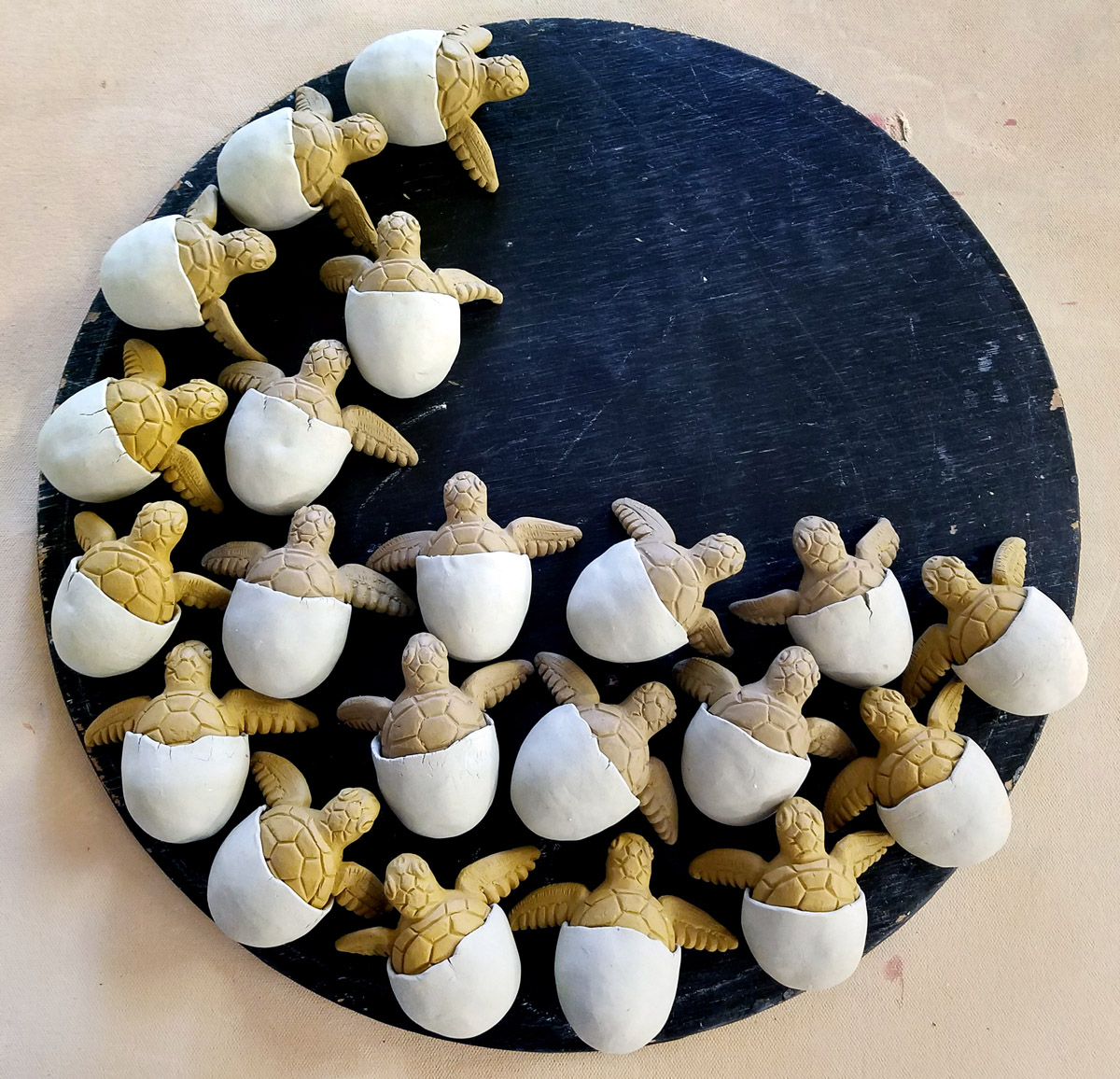 Dark and light stoneware clay turtle bodies, before firing
Each hatching turtle was fitted individually to its egg, and the two pieces were bisque fired together to hold their shape. To make glazing easier, the turtle was just the right size to slip out of the egg after the bisque firing.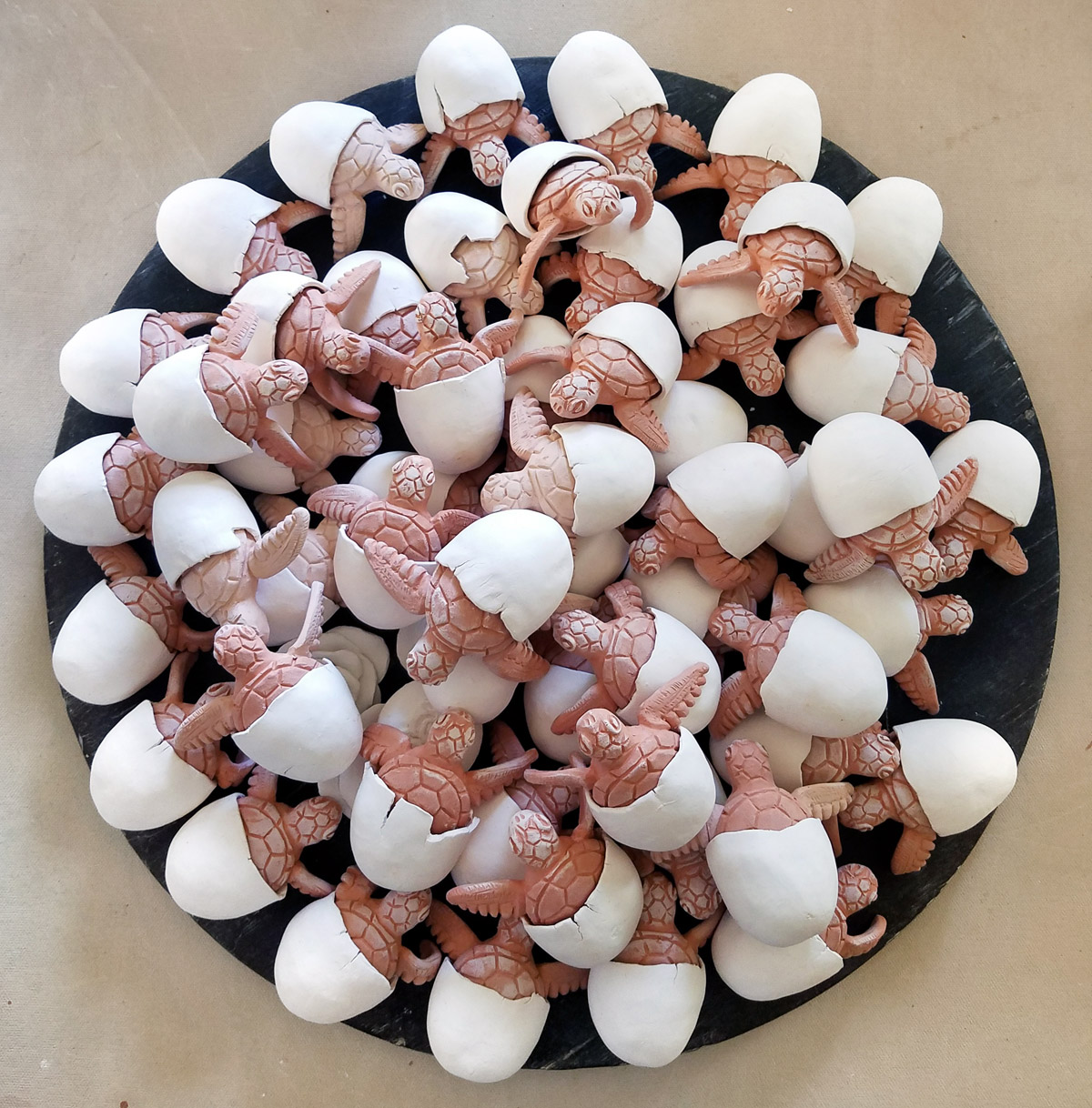 Dark and light stoneware clay after bisque firing, before glazing. About 60 turtles in this pile!
Each turtle's shell was layered with two to three different glazes for depth and variety in every individual. The glaze on the eyes and shell was painted with a protective wax resist, then the bodies were coated with iron oxide that was rubbed back with a damp sponge to heighten contrast in all the carved details.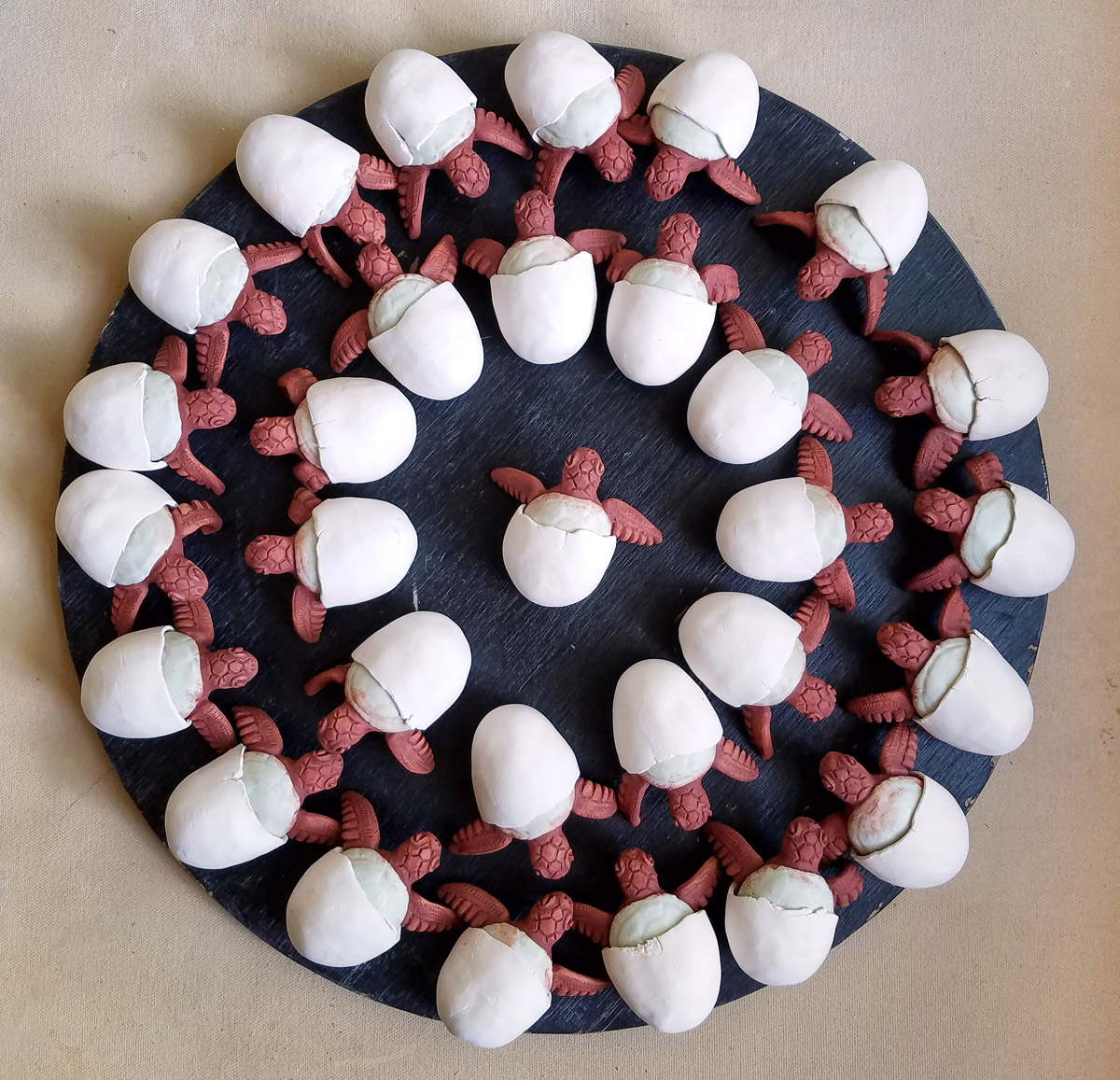 Glaze applied and ready to go into the final high-temp firing.
Each unique egg was carefully kept with its turtle during the glazing process, then fitted back together for the final, high-temperature glaze firing. The turtle eggs are bare, unglazed porcelain – a surface I love, and use frequently in my sculptures.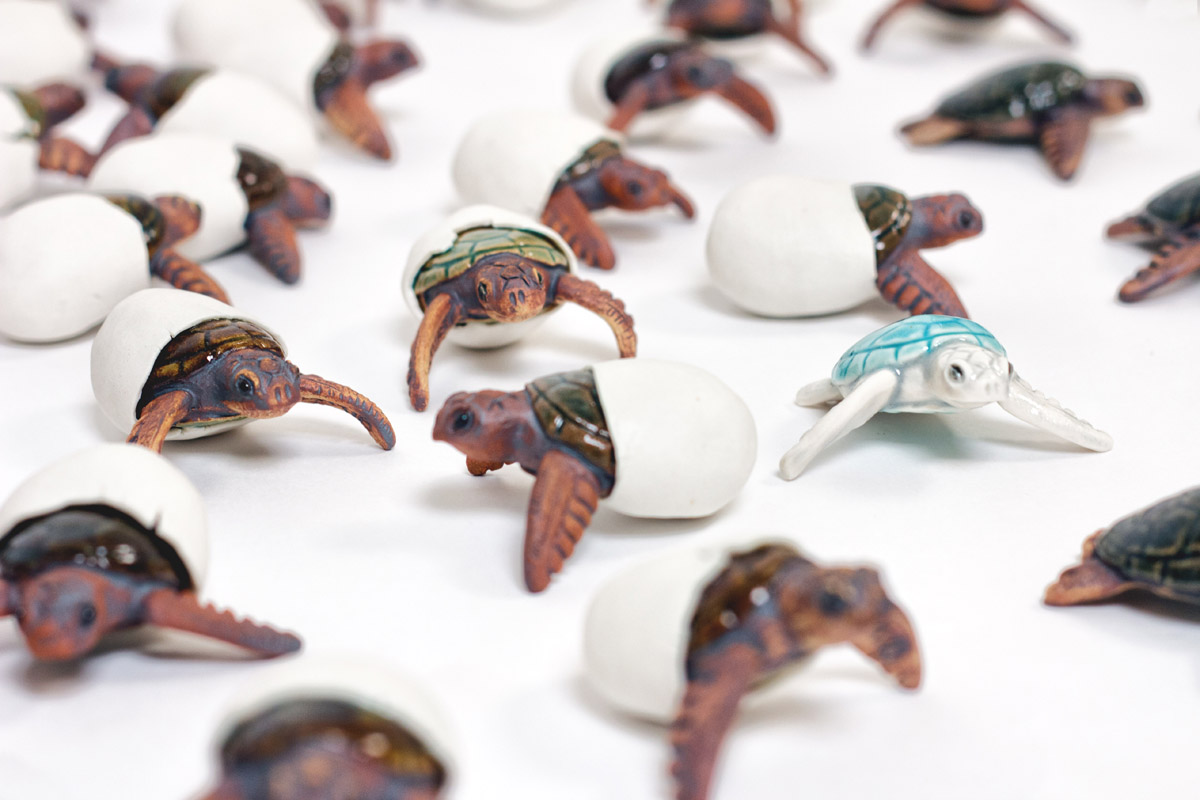 This project got me thinking about my work with multiples, a fascination that has developed in my sculpture practice. I recalled the story of Sadako and the 1000 Paper Cranes, and how she turned to repetition, creation, and beauty in the face of despair. Repetition as meditation is a common practice around the world, engaging your body and freeing your mind to step back and take a different look at things. It is a way of making peace with things we cannot seem to fix, and centering ourselves in the knowledge of what we are capable of doing, so we have the energy to go out and try again to accomplish what seems out of reach.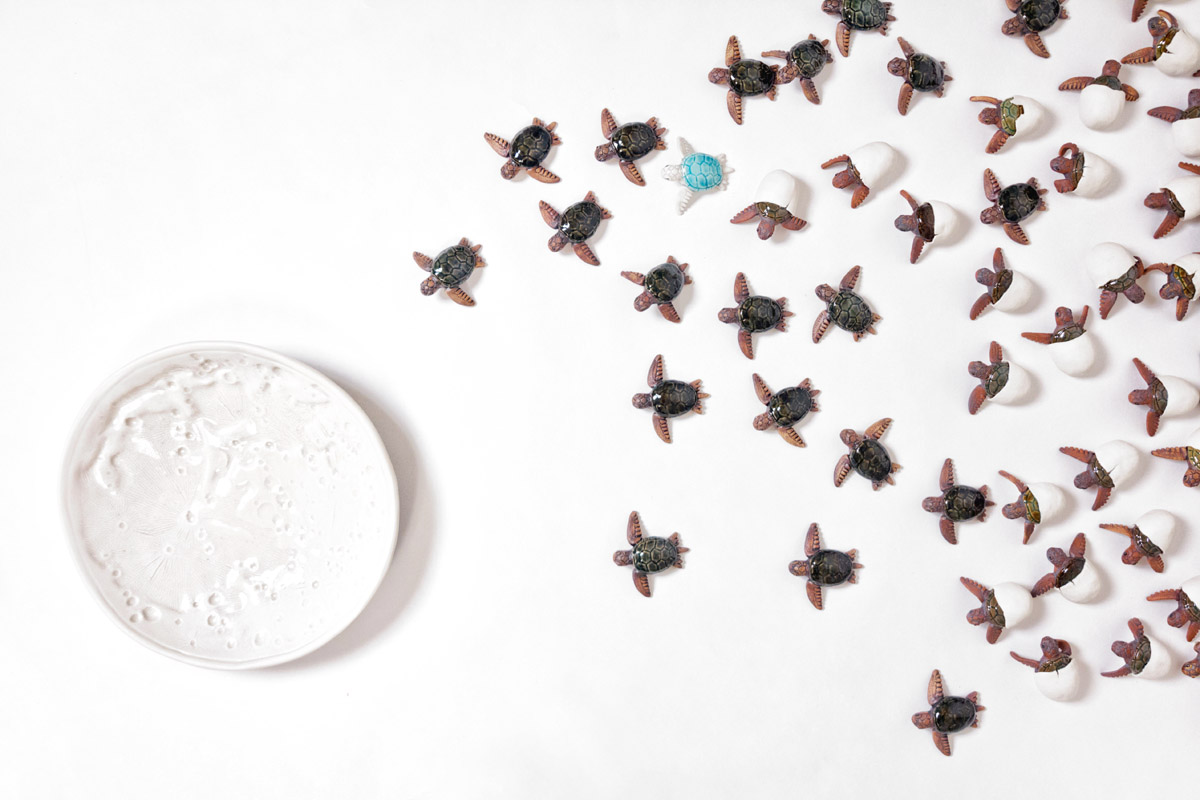 Turtles with a
Moon Bowl
. Sea turtle hatchlings instinctively move towards the brightest light after emerging from the nest – traditionally, a full moon reflecting on the ocean.