About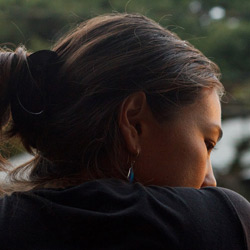 I have spent my life on the coast, and all my artwork has its roots in my love of the sea. I see the coast as a border between the known and unknown, amid constant cycles of change. My work explores these transition environments as a marker of our place within the larger network of natural systems. I believe that joyful exploration of the unknown creates a positive, active environment that enriches our relationships with ourselves, each other, and our world.
I am a lifelong artist with a passion for materials. My work in different media ranges from watercolor painting to glass and metal sculpture, functional porcelain ware, digital and darkroom photo processes, and interactive installation work. So far I haven't met a medium I didn't like.
I am currently based in Portland, Oregon. My background is in California, Kauai, and Down East Maine.
Above, L-R:
Tillamook Forest installation art
;
Oregon Coast plein air painting
;
Santa Monica beach path mural