Yaquina Head Lighthouse from Cobble Beach
#545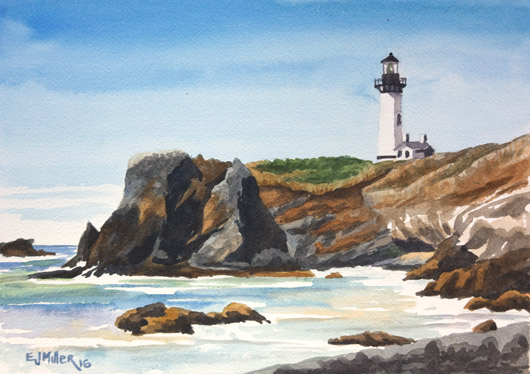 Yaquina Head Lighthouse is the tallest lighthouse in Oregon, with a 93ft. tower and a light that can be seen 19 miles out to sea. It was built in 1873 and continues to operate today. It is located on a high, exposed cliff near Newport, on Oregon's central coast.

The lighthouse is part of the Yaquina Head Outstanding Natural Area, a federal reserve that is home to an incredible array of wildlife and beautiful coastline. The site has been popular with visitors since the 1930s, when nearly 12,000 visitors made it the 4th most visited lighthouse in the United States. Today it receives over 400,000 visitors per year.

A vein of magnetized iron runs through the bedrock of Yaquina Head, causing ships' compasses to malfunction if they venture too near.
Plein air watercolor, 2016
9" x 12" in 12" x 16" mat
Original Painting Available (Framed)
Purchase Yaquina Head Lighthouse from Cobble Beach, Oregon Coast Art Prints:
5x7 matted to 8x10" Art print
8x10 matted to 11x14" Art print
11x17" Paper giclee
12x16" Canvas wrap
18x24" Canvas wrap
22x32" Paper giclee
24x32" Canvas wrap
Set of 8 Greeting Cards + Envelopes
Single Greeting Card + Envelope
$4
May 2023 order fulfillment is 1-2 weeks from date of purchase.
Tags:
beach
lighthouse
oregon coast
You might also like...