View of Kings Court from Meath Hill, Ireland
#242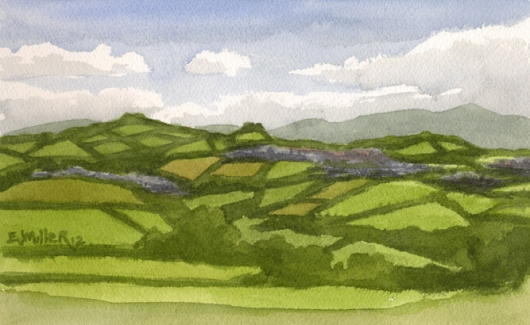 First painting after arriving in Ireland, from the backyard of the house where we stayed on Meath Hill. Small cattle pastures are divided into a patchwork by lines of bushes and trees. The houses and shops of the nearest town, King's Court, are visible near the top of the hill.
Plein air watercolor, 2012
6" x 9"
Original Painting
Purchase View of Kings Court from Meath Hill, Ireland, Ireland & Europe Art Prints:
5x7 matted to 8x10" Art print
8x10 matted to 11x14" Art print
11x14" Paper giclee
16x20" Paper giclee
Set of 8 Greeting Cards + Envelopes
Single Greeting Card + Envelope
$4.00
Orders placed May 20 - June 12, 2022 will be fulfilled starting on June 13, 2022.
You might also like...