Silver Maple at Chown Pella, Portland
#757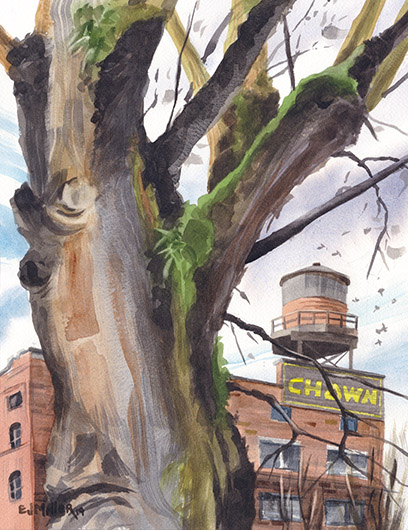 A beautiful old silver maple tree spills out onto the sidewalk in downtown Portland's Pearl District. It stands on the site of a proposed 23-story hotel, currently a U-Park lot with a misbehaving ticket machine. Its branches frame a view of the historic Chown Pella building and water tower, where a flock of starlings circled in the winter sun.
Plein air watercolor, 2019
11" x 14"
Original Painting Available (Framed)
Purchase Silver Maple at Chown Pella, Portland, Portland Art Prints:
5x7 matted to 8x10" Art print
8x10 matted to 11x14" Art print
11x14" Paper giclee
16x20" Paper giclee
12x16" Canvas wrap
18x24" Canvas wrap
24x32" Canvas wrap
30x40" Canvas wrap
36x48" Canvas wrap
Set of 8 Greeting Cards + Envelopes
Single Greeting Card + Envelope
$4.00
Commissions will open in March 2023.
Tags:
tree emergency response team