River Sentinels at Cascade Head
#889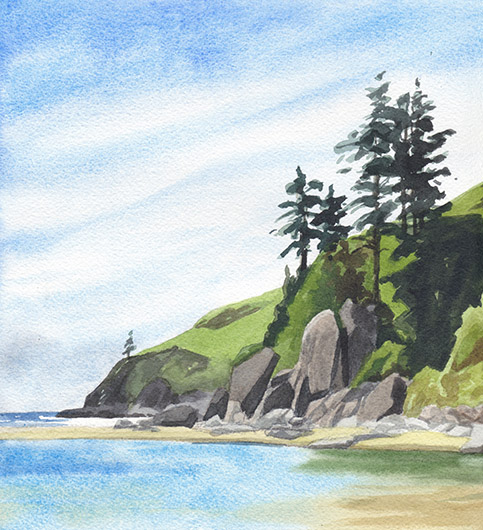 Left side, detail

Center, detail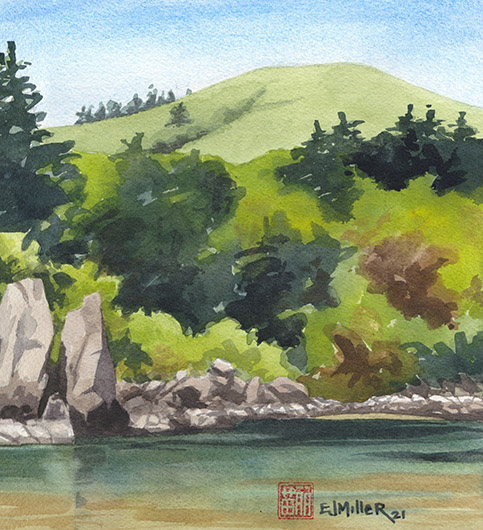 Right side, detail
The Salmon River flows into the sea at the base of Cascade Head, on the central Oregon coast. Massive upright stone boulders line the riverbank, standing sentinel between river and sea, headland and shoreline. The sentinels welcomed me to this meeting place during my explorations as the Grass Mountain artist-in-residence at Sitka Center for Art and Ecology in May 2021.
Watercolor, 2021
8.5" x 23.5"
Original Painting Sold
Purchase River Sentinels at Cascade Head, Oregon Coast Art Prints:
Unmatted 4x10" Art print
9x24" Paper giclee
8x22" Canvas wrap
12x34" Canvas wrap
Set of 8 Greeting Cards + Envelopes
Single Greeting Card + Envelope
$4
May 2023 order fulfillment is 1-2 weeks from date of purchase.
You might also like...