Radke Maple House
#729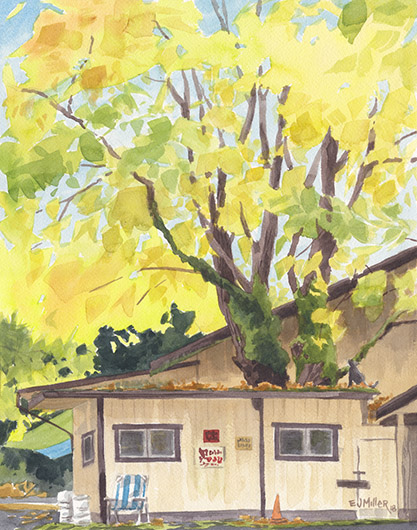 Merle Radke loved trees. One block from his family auto parts shop in the St. John's neighborhood of North Portland, he made his home in a series of unconventional buildings constructed around the property's trees. The two trunks of this mature big-leaf maple emerge from the middle of a low roof. The maple's leaves are starting to show autumn color in this mid-October painting.
This plein air painting was completed with the Tree Emergency Response Team from Elisabeth Jones Art Center. The project goal is to raise awareness of endangered individual trees in the Portland area.
Click here
to visit their website and learn more.
Plein air watercolor, 2018
11" x 14"
Original Painting Available (Framed)
Purchase Radke Maple House, Portland Art Prints:
5x7 matted to 8x10" Art print
8x10 matted to 11x14" Art print
11x14" Paper giclee
16x20" Paper giclee
12x16" Canvas wrap
18x24" Canvas wrap
24x32" Canvas wrap
30x40" Canvas wrap
36x48" Canvas wrap
Set of 8 Greeting Cards + Envelopes
Single Greeting Card + Envelope
$4.00
Commissions will open in March 2023.
Tags:
tree emergency response team