Mt Hood Summer Glow from Trillium Lake
#810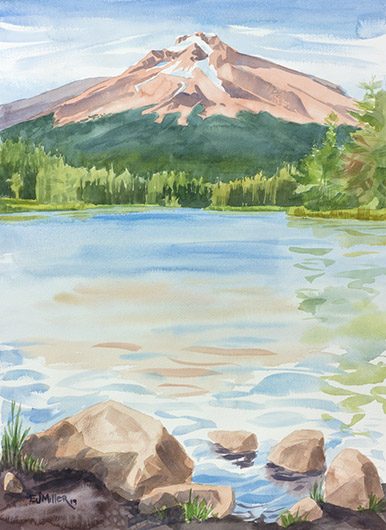 Calm waters on Trillium Lake reflect the bare summer slopes of Mt. Hood, glowing in the afternoon sun. For thousands of years, the area around Mt. Hood was home to dozens of Native tribes, and the mountain's name was Wy'east.
Plein air watercolor, 2019
18" x 24"
Original Painting Sold
Purchase Mt Hood Summer Glow from Trillium Lake, Countryside Art Prints:
5x7 matted to 8x10" Art print
8x10 matted to 11x14" Art print
11x14" Paper giclee
16x20" Paper giclee
12x16" Canvas wrap
18x24" Canvas wrap
24x32" Canvas wrap
Set of 8 Greeting Cards + Envelopes
Single Greeting Card + Envelope
$4.00
Commissions will open in March 2023.
Tags:
LPG Oregon 2019
You might also like...