Forest Trail to Short Beach
#760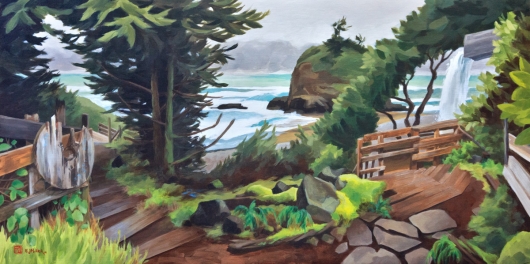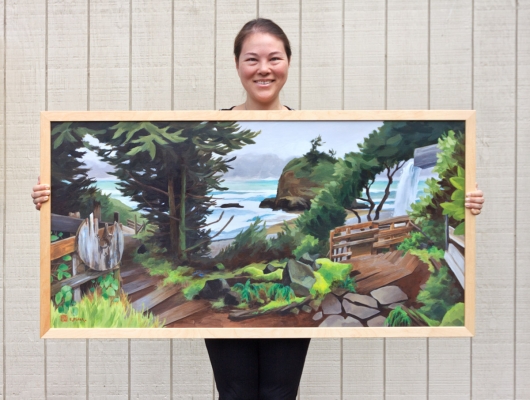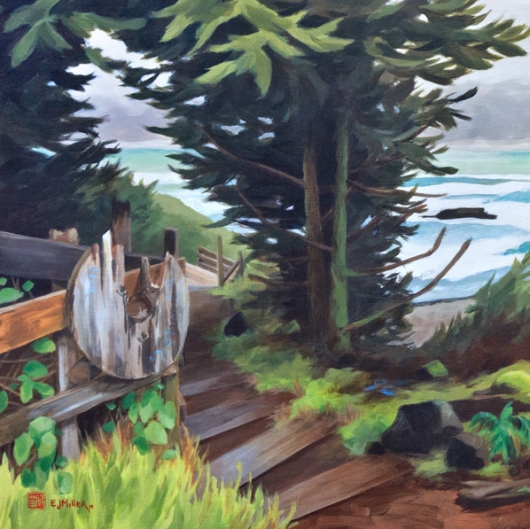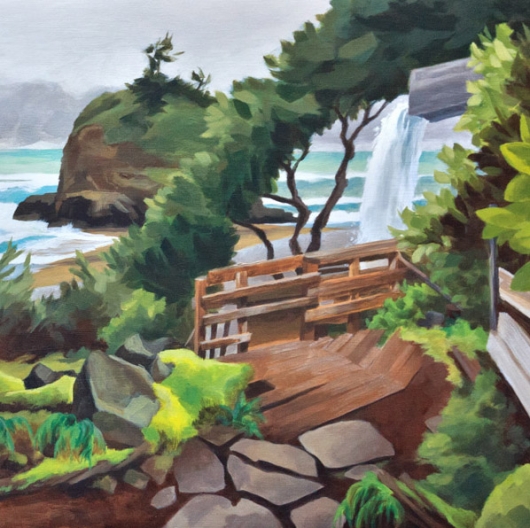 A steep, hidden forest staircase leads down to Short Beach, with peekaboo views of sand and stones, towering sea stacks, and the spillway of Short Creek. Ocean flotsam decorates the trail's wooden benches and 100+ steps, hand-built and maintained by the local community for over 20 years.

The trail itself is an evolving landscape. Over the 5 years I've visited Short Beach, wooden rails have decayed and been rebuilt. Massive mooring ropes have been hauled off the beach, draped over railings, and later carried away. Mandalas of feathers and stones decorated a roofed alcove that has come and gone.

To me, the trail to Short Beach represents a self-regulating system of conservation and care. Repeated visits reveal the constant changes made by a group of people who love this place.

This painting is my second year's contribution to the ongoing Pacific coast pano-mural, "For the Seventh Generation," at Elisabeth Jones Art Center. 33% of purchase price benefits Oregon State Parks Foundation.
Acrylic on wood panel, 2019
24" x 48"
Original Painting Sold
Purchase Forest Trail to Short Beach, Oregon Coast Art Prints:
8x16" Paper giclee
12x24" Paper giclee
16x32" Canvas wrap
18x36" Paper giclee
Set of 8 Greeting Cards + Envelopes
Single Greeting Card + Envelope
$4.00
Commissions are closed for 2023. A schedule for future commissions is not currently available.
Tags:
short beach
seventh generation
You might also like...