Coquille River Lighthouse, Bandon
#547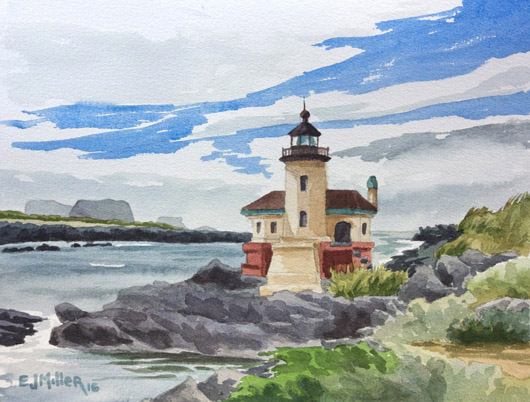 The Coquille River Lighthouse is located in Bandon on the southern coast of Oregon. It was built in 1896 to guide merchant timber ships past the dangerous sandbar at the mouth of the Coquille River. The lighthouse has a unique design with a cylindrical tower attached to an octagonal main room.

After 43 years of service, the lighthouse was deactivated in 1939. The last head lighthouse keeper, Oscar Langlois, served at Coquille River Light for 29 years. He was born at Cape Blanco Light and married Marie Amundsen, daughter of the keeper at Cape Arago Light, where he was stationed from 1905-1910.

Coquille River Light was abandoned to the elements for 24 years before being restored as part of Bullards Beach State Park and reopened to the public in 1979.
Plein air watercolor, 2016
9" x 12"
Original Painting Sold
Purchase Coquille River Lighthouse, Bandon, Oregon Coast Art Prints:
5x7 matted to 8x10" Art print
8x10 matted to 11x14" Art print
11x14" Paper giclee
16x20" Paper giclee
12x16" Canvas wrap
18x24" Canvas wrap
24x32" Canvas wrap
Set of 8 Greeting Cards + Envelopes
Single Greeting Card + Envelope
$4
May 2023 order fulfillment is 1-2 weeks from date of purchase.
Tags:
beach
lighthouse
bandon
oregon coast
You might also like...