Columbia River at Tanner Creek
#801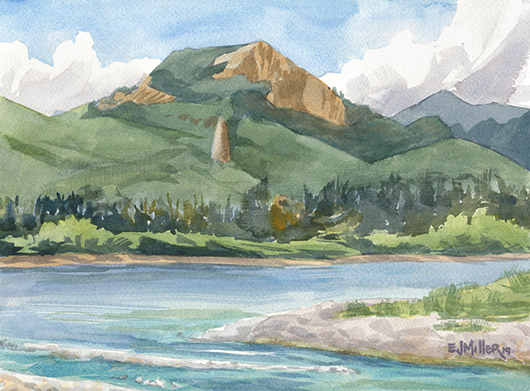 Looking across the Columbia River from Oregon to Washington at Tanner Creek, just below the Bonneville Fish Hatchery. Salmon were spawning and seals were hunting in the shallow, rocky creek while we painted.

Painted on traditional Chinook lands, inhabited for 15,000 years by Native peoples. The river was called Wimal in the local Chinookan language.
Plein air watercolor, 2019
8" x 11"
Original Painting Available (unframed)
Purchase Columbia River at Tanner Creek, Countryside Art Prints:
5x7 matted to 8x10" Art print
8x10 matted to 11x14" Art print
11x14" Paper giclee
16x20" Paper giclee
12x16" Canvas wrap
18x24" Canvas wrap
24x32" Canvas wrap
30x40" Canvas wrap
36x48" Canvas wrap
Set of 8 Greeting Cards + Envelopes
Single Greeting Card + Envelope
$4
Commissions are closed for 2023. A schedule for future commissions is not currently available.
Tags:
LPG Oregon 2019
You might also like...