Cleft of the Rock Lighthouse, Oregon
#615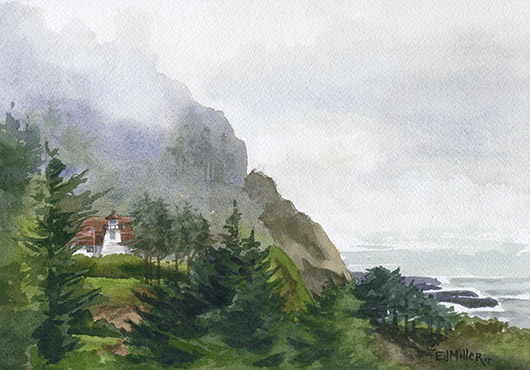 Late summer fog hangs over the horizon and steep coastal cliffs at Cape Perpetua, on the central Oregon coast. The beacon from Cleft of the Rock Light can be seen 16 miles offshore, and might be welcomed at sea on these frequent foggy days.

The lighthouse and attached dwelling were built in 1976 by James Gibbs, a former Tillamook Rock Light attendant and lighthouse historian. Cleft of the Rock Light has been an official navigation marker since 1979 and includes many historic objects gathered from other West Coast lighthouses. The lighthouse takes its name from a 19th century hymn by Fanny Crosby.
Watercolor, 2017
8" x 10" in 11" x 14" mat
Original Painting Available (unframed)
Purchase Cleft of the Rock Lighthouse, Oregon, Oregon Coast Art Prints:
Giclee print
Laser print (8" x 10" matted to 11" x 14")
Laser print - mini (5" x 7" matted to 8" x 10")
Set of 8 Greeting Cards + Envelopes
Single Greeting Card + Envelope
$4.00

Tags:
oregon lighthouse
cape perpetua lighthouse
lighthouse
oregon coast
You might also like...