Bridge over Multnomah Falls
#799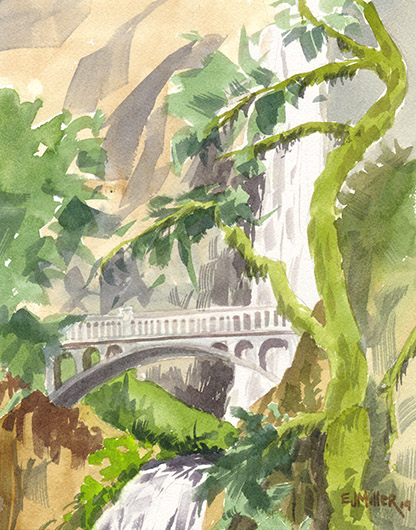 A graceful footbridge arches over Multnomah Falls, a well-known waterfall in Oregon's Columbia River Gorge. Multnomah Falls is a two-tier cascade 620 ft in height. It is the tallest waterfall in Oregon. The bridge was constructed in 1925, along with the historic lodge below the falls. The waterfall is named for the Multnomah Tribe of local Native people.
Plein air watercolor, 2019
8" x 10"
Original Painting Available from stockists (Framed)
Purchase Bridge over Multnomah Falls, Countryside Art Prints:
5x7 matted to 8x10" Art print
8x10 matted to 11x14" Art print
11x14" Paper giclee
12x16" Canvas wrap
16x20" Paper giclee
18x24" Canvas wrap
24x32" Canvas wrap
30x40" Canvas wrap
36x48" Canvas wrap
Set of 8 Greeting Cards + Envelopes
Single Greeting Card + Envelope
$4.00
Tags:
columbia river gorge
multnomah falls
waterfall
LPG Oregon 2019
You might also like...